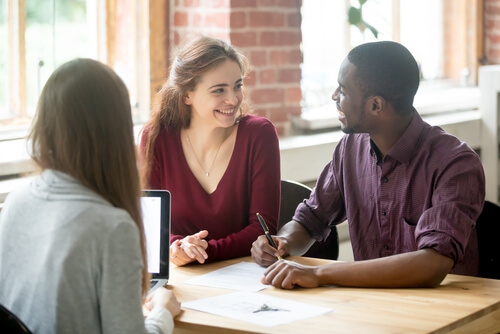 Getting pre-approved for a mortgage is a smart step before you go out looking for a home. A pre-approval letter shows sellers that you have already proven to a lender that you have the income and down payment to qualify for a mortgage loan. This allows sellers to take you seriously, especially in a hot seller's market. Pre-approval can be quick and painless, if you have the right documents lined up. While each lender may require slightly different paperwork, there are at least 4 documents that almost all lenders will need.
Income & Employment Documents – All lenders want to see that you are currently employed and also proof of income to decide how much house you can afford. To document your income, lenders usually want copies of your tax returns from the previous two years. In order to prove employment (and income) for mortgage pre-approval, lenders require W-2 forms. Your most recent payroll stubs may be required as well. End-of-year payroll stubs may be required if your yearly income includes bonuses or overtime. For those who are self-employed, 1099s forms can be used. If you receive income from rental properties and want it to count towards qualifying for a mortgage, you will need to provide documentation of your rental income and current market value of the property.
Asset Documents – Lenders will want to check that you have cash for a down payment as well as reserves for mortgage payments in the future. You will need to provide bank statements for the past two months as well as statement from any investment accounts you have, including IRAs, 401(k)s, and any stock and bond accounts.
Debt Documents – Mortgage lenders look for low debt-to-income ratios so you will need to provide documents related to any debts you have. The most common types include student loans, auto loans, credit cards and other mortgage loans. Your documentation should provide creditor names and addresses, your loan balance and your minimum required payment.
Special Exceptions and Circumstances Documents – There are plenty of situations where you something needs to be explained about your finances. Include documentation about any of these to aid the pre-approval process. These might include documents about previous bankruptcy or foreclosures, down payment gift letters if you are receiving part or all of your down payment from someone else, divorce documents listing any alimony or child support you are receiving or paying. For first-time home buyers, rental documents such as proof of rent payments for the past year may be required.
Gathering all the needed documents can often be done within just a few days and the pre-approval process can also be completed in a matter of days. Once lenders have your necessary paperwork, they will comb through it and check your credit, and hopefully send you out into the housing market with the pre-approval you need to put a bid on the perfect home.
If you have questions about a Mortgage Pre-approval - give us at ABM Funding Inc. a call today at 844-700-3863 .